CHOKE CARE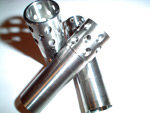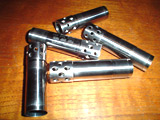 Warning-
Replacement chokes of any type, including factory chokes, are specifically designed to fit your barrels to very exacting tolerances.
As a result they need to be cared for just as well as any other part of your firearm to continue to function correctly without causing damage to your firearm, yourself or bystanders. If you unintentionally damage the choke by dropping it, not keeping it in a container if uninstalled from the barrels, then you must check the seat/skirt of the choke to ensure that it is not damaged in anyway. RHINO chokes are constructed from excellent quality stainless steel however if you note any damage please take them to a competent gunsmith for repair.
Installation-
Too install simply screw out your factory chokes and give the threads inside your muzzles a clean and very light oil on the threads internally.
Apply some light grease or oil on the threads of the chokes and then screw them in to finger tight with a bit of a tweak, the chokes are self seating so don't do them up over-tight.
Cleaning-
To clean soak in petrol and scrub or alternatively soak in hot water then use a gentle oven cleaner on them, anything that removes carbon will be fine. Ensure the chokes continued performance by cleaning them regularly.
Troublesome Chokes-
If your chokes are really tight and can't be undone, gently use a small screw driver through the ports to undo them.
Good Shooting,